Archive Page 2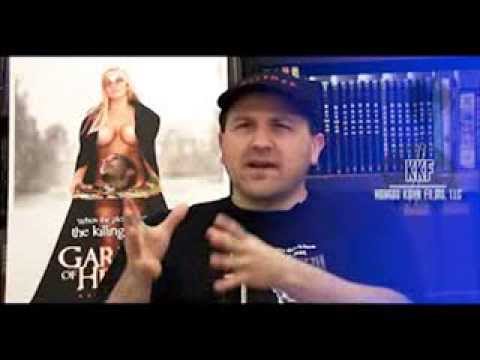 Happy new years from Smash or Trash! To kick off the new year I have a few updates in hand, the biggest being that I have edited the first ten minutes of my interview with filmmaker Kevin Kangas. In this clip he is introduced and we get to talking about his first movie, a thriller called HUNTING HUMANS. Kevin is very honest and candid about the hurdles he faces making movies and it is always interesting getting his take on the good and the bad of this industry. More to come but give this a good watch!
It was sad news to learn that Mike Vraney – the creator of Something Weird Video – has died from cancer this January 2nd, 2014. Vraney became a custodian of obscure, strange wonderful movies and getting them back out to the paying public in video and DVD form. Thanks to him and his company, many independent filmmakers are getting another chance for people to discover their art. Mike, we appreciate your noble efforts, and the Smash or Trash crew send our condolences to your family, friends, and fans during this time.
I have a couple of new movie reviews up as well, the first being ALL AMERICAN ZOMBIE DRUG. It's about a couple of stoner drug dealers that create a new drug that has – well – some bad effects. It stars one of the cast from THE BIG BANG THEORY. You can get to the review HERE.
Next up Ben Schyan co-wrote, produced and directed a movie called R & B No Contest: A Karaoke Saga. Schyan is a comedic actor that has appeared in such movies as DEAD HUNT and LIMITS TO AMBITION. The movie is about two young rappers that have to overcome the hurdles of gang members and nympho-maniacs in their quest to win the city-wide karaoke contest. You can read the review HERE.
Tennessee filmmakers Joseph Henson and Nathan Johnson took a break during the holidays, but are now back to finishing up the principle photography on their latest movie. The film is called THE NIGHT BEFORE EASTER, and is a throwback to 1980s slashers. A maniac dressed in a bunny suit is terrorizing a bunch of teenagers in an indoor storage complex. Look for it later this year out on DVD!
Welcome to another year's end of Smash or Trash. It's been an interesting 12 months to say the least. Sorry that there have not been more in-depth updates, but the reason for that is two-fold: the first being that I was in the hospital for a while – which slowed me down. The second is that I decided to put my movie project on the front burner.
I am busy with the pre-production prep to my first movie in years. It is called MADHOUSE MANOR. The plot is a story of revenge set in a monster wax museum. The script is going through some revisions and I am doing some of the storyboards and props to show potential investors when I set up my kickstarter campaign.
Filmmaker Kevin Kangas' FEAR OF CLOWNS 2 is getting a deluxe Blu-ray release! Shivers the clown has escaped from the insane asylum and is after artist Lynn Blodgett again. It is up to Detective Dan Peters to protect her from the homicidal reject from the circus. Frank Lama, Jacky Reres and Mark Lassise return in the amped up sequel to the LionsGate Film release. So this baby is loaded for bear with extras – including four commentaries and several making of features. This is a must have for anyone that loves a good horror movie. The Blu-ray drops December 20th, 2013 and is offered at a fantastic price. You can pick it up HERE.
While we are on the topic of Kangas Kahn Films, there is also news that their film noir thriller GARDEN OF HEDON will get it's Blu-ray release in February of 2014.  Starring Richard Cutting, John C. Bailey, Beau Nikolas Peregino and Andrew Ely, this murder mystery takes place in a castle where a hedonistic society dwells. The movie sports vibrant color and incredible picture quality (it was shot with a RED camera) and comes overflowing with extras – including commentary, making of documentary, and Easter eggs. This is definitely the "must buy" movie of 2014, so make sure to pick it up. As an added incentive, Kangas Kahn Films has posted the first 14 minutes of the movie online (this includes the prelude). You can check that out HERE.
Independent filmmaker Donald F. Glut is trying to raise additional funds for his erotic-themed werewolf movie. Glut, a prolific writer (Empire Strikes Back, Transformers) and dinosaur expert has been making cult underground movies since the 1960s. For the man that inspired John Carpenter (Halloween) with his movies, these additional funds will help to make the special effects better, as well as being able to afford higher production values, locations and props. For more information on how to help and where to make a donation for this production – and the cool incentives offered – the link can be found HERE.
The New York Dohlerites at the After Movie Diner podcast are covering the two final public-released Timewarp Films movies produced by Don Dohler and Joe Ripple. Jon and Dori Cross, Nick Consol and Phil Rowan review 2004's VAMPIRE SISTERS and 2007's DEAD HUNT. Both films receive a lot of love and laughs from the folks at the Diner, and go into detail about why Dohler's films are well worth seeking out. Besides the reviews there is a hilarious Alien Factor-themed skit at the beginning, a kick ass song about Don Dohler and his team, and as a bonus there is a little interview with me too.
So, plenty of stuff to check out here at the end of the year for Smash or Trash, as we go into another exciting year of independent filmmaking in 2014! Happy Holidays and see you all next year!
Independent filmmakers Jimmy George and Chris LaMartina wrapped their movie CALL GIRL OF CTHULU towards the end of Summer of 2013. Pictured above is director LaMartina giving direction to actor Leanna Chamish on the final shooting day.The horror/comedy will no doubt be premiere sometime in 2014. We here at Smash or Trash wish these talented gents continued success. While you wait for the movie, you really should do yourself a favor and check out their found footage film WNUF HALLOWEEN SPECIAL. It has gotten rave reviews everywhere – including the New York Times and MTV!
Also, the missing DRUNK ON VHS podcast has been found! Podcaster Moe Porne talks with AMD podcaster Jon Cross about the gore-drenched cult movie – Don Dohler's BLOOD MASSACRE. The movie stars the legendary George Stover  and is arguably considered the best of Dohler's early work.
Related articles
Wayne Shipley is a very talented filmmaker with a passion for the Old West. He is premiering a new Western called DAY OF THE GUN in Frederick, MD on November 14, 2013. The movie screens at 8pm and tickets are $15 and stars Eric Roberts, Sam Lukowski, and Brian St. August. For more information you can go directly to the Day of the Gun website HERE.
Joe Ripple is a prolific filmmaker who is well known for his incredible charity organization SCARES THAT CARE. He is premiering a new film JEBEDIAH on November 16, 2013. It stars Brian Greenwell and is a slasher set in Amish country. Tickets are $8 at the door and the premiere takes place at Gateway Movies – 20 Presidential Circle, Gettysburg, PA. Part of the proceeds of the evening will go to charity. You can find out more about the premiere HERE.
AWARD WINNING BROOKLYN BASED PRODUCTION COMPANY WILL HAVE EUROPEAN PREMIERE OF ITS LATEST FILM
The FilmGym, an independent film production company based in Brooklyn, New York, will have its European premiere this month of the award winning film Chance of Rain, at The Aesthetica Short Film Festival in York, England. The film debuted and took home the award for Best Short Film at the prestigious Sonoma International Film Festival in California in April, and has been racking up awards and positive reviews since.
Chance of Rain is directed by Philipp Wolter and stars Wolter and his wife, Michelle Glick, who are the driving force behind FilmGym. As succinctly described by Roger Ebert writer Anath White, "they possess the sort of beauty which could easily inspire envy in others, yet they're also down-to-earth and instantly likable. Their moody, atmospheric film takes us into a world we'd willingly spend more time exploring with its intriguing characters. When it wins Best Narrative Short (at Sonoma), the applause is heartfelt."
Chance of Rain is a dramatic love story, beautifully shot by cinematographer Eun-ah Lee.
"I saw this piece as a play several years ago," says Wolter, "and the story always stayed with me. So I contacted the writer, Chisa Hutchinson, and we collaborated on a screenplay version of her story."
Chance of Rain is FilmGym's follow up to The Bridge, another film created by the duo that garnered awards on the national and international level and later went on to qualify for an Oscar.
Since 2004 FilmGym has grown from an arena for actors and filmmakers to collaborate and work on their craft into a production house boasting films and commercials that have won awards at both the local and international level. In addition to building an impressive portfolio of work, the duo hosts International short film screenings, a monthly screenplay reading series and have become accomplished actors in their own right. Wolter will be seen later this year in Blood Ties, starring Clive Owen, Marion Cotillard and Mila Kunis; and Glick continues to tour with her autobiographical one woman show, Asian Belle.
"We are really excited to bring Chance of Rain to Europe," says Glick. "Especially to The Aesthetica Festival – it's very much an established and dynamic player on the UK film festival circuit and the level of work is really high. We're in good company!"
Chris LaMartina and Jimmy George – Baltimore filmmakers – are presenting the found footage movie WNUF HALLOWEEN SPECIAL. The movie takes place in October 1987 and follows a reporter as he and his team investigate a haunted house. The movie stars Paul Fahrenkopf, Richard Cutting, Leanna Chamish, Helenmary Ball, Brian St. August, and Robert Long II. It has been getting great reviews. Hope to see you there at the world premiere!
Related articles
Hello all you independent film enthusiasts!
This will be the last BIG Smash or Trash update for a while because I am MAKING A MOVIE! That's right, I have been in the business 30 years and to celebrate I'm going into production on a movie for the first time in DECADES! Madhouse Manor! Smash or Trash will be reporting on is as it happens – so keep looking at this space! Now what has been happening?
Jim Wood – a huge Don Dohler fan – is having his own documentary done on his career as a front man for a band. A big part of this doc includes him meeting his indie film hero – Don Dohler! They are so close to meeting their kickstarter effort. So help independent filmmaker Paul Devlin make his goal! Check it out here!
Also, did you know that the incredible movie ROULETTE – by filmmaker Erik Kristopher Myers – is coming out on Blu-ray  on October 22 and on DVD on November 19th? Well it is peeps! This is the movie that rocked the independent film world. Make sure you pick it up HERE.
I am extending the contest date on the Rise and Fall… in Love DVD/poster contest. Why? Because the BIG WORLD PREMIERE is coming for this movie! Lee Doll's independent musical "Rise and Fall… in Love" premieres on Sunday October 13, 2013 at 3:00 pm at the Carroll Arts Center in Westminster, Maryland. Tickets are selling quicker than anticipated so please tell your friends, family, and Significant Others to purchase their tickets soon HERE – be there! And the drawing for the free DVD and poster will be done THAT DAY!!!
ALSO! Lee Doll Film Productions and JBH Video present: "READY FOR ACTION" Now in Pre-Production! 
"Ready For Action" has been 99% cast and will begin filming late Fall 2013. The film stars Jennifer Rouse of 
Dangerous Deception
, 
Chainsaw Sally
, and 
One-Eyed Horse
. "Ready For Action" centers around the female operatives of the Sweet Cascades Agency run by Candy West (Kate Jackson). Sweet Cascades Agency is hired to find the kidnapped little girl of Mr. Reason, portrayed by cult-star George Stover. Rounding out the detective agency is martial artist Claire Brown and pop-star Louanna Lee. Here's the
TEASER TRAILER
.
Other cast members include: Alexandra Hewett • Sam Lukowski • Alfred Guy • Kim Hoang • Wayne Shipley • Karl Hopf • Brendan Biondi • Avery Guy • Julius Bennett, Jr. • Gene Vincentt - We are still searching for a 10 year old girl for one day of filming. Contact Kate@leedoll.com for more info.
Filmmaker Joe Sherlock is on the mend from his car accident and had this to tell us: I am just about finished with my latest, DRIFTER. Some music and sound work and a few visual FX and it'll be done. Here is the latest TRAILER and the Facebook page with lots of pics is HERE.
I got an email from a gentleman named
Nathan Seim
. He is an engineer at
ATOMIC FEATHER
. This team makes lightweight rigs and dollies for independent filmmakers. I think they are fantastic! They have a
kickstarter
going on for some of the newer equipment they are developing. Only ten days left on that kickstarter so give them a look – really talented team!
I really am dismayed that the MALICE webseries is having trouble raising money for the 3rd season of MALICE starring Brittany Martz. I mean, filmmaker Philip Cooke has put together a really professional horror show the features great acting, creepy gothic atmosphere, hot women, tentacle horror, and the walking zombie dead. What's not to like? Unfortunately the production needs some more funding before it can get started, and as of this writing, there is less than a week to do it! So please, follow the Kickstarter link, watch some of the past episodes (very good!) and give what you can to the campaign. I know their cast and crew will appreciate it! http://www.kickstarter.com/projects/530407494/malice-metamorphosis
Related articles
Filmmaker Joe Sherlock was our main winner (I never said filmmakers that have been interviewed here couldn't enter the contests). That means Joe gets the Steven King book (courtesy of filmmaker Kevin Kangas) as well as two DVDs. Congrats to Joe!
So we are done with one giveaway and it's time for another! What we have is Lee Doll's RISE AND FALL… IN LOVE. This movie is probably one of the ONLY independently made musicals ever done. Part love story, part Monkees episode, and comes complete with thugs and space aliens. It stars Louanna Lee and the members of the band CLEAR FOR TAKEOFF. So for the month of September, the giveaway courtesy of filmmaker Lee Doll is one copy of the DVD (loaded with extras) and a RISE AND FALL poster. Just send your name and address into rembrandt36@earthlink.net and I will put you in for the drawing!
Also, there will be a World premiere of this musical :
"Rise and Fall…in Love" on Sunday October 13, 2013 at 3:00 pm at the Carroll Arts Center in Westminster, Maryland. Tickets are selling quicker than anticipated so please tell your friends, family, and Significant Others to purchase their tickets soon here:
http://carrollcountyartscouncil.ticketleap.com/rise-and-fallin-love/
Midnight Marquee Filmmakers Gary and Sue Svehla have been very busy on their independently done space opera Stellar Quasar and the Scrolls of Dadelia. Here is an email I got from Sue: "Thanks for asking about the movie. I'm about 3/4 of the way through editing and about 1/2 done with spfx. Mitch (Klein) is doing the ships, but I'm working on the rest… Also, our 4 hour documentary Midnight Madness is being retitled and released to big box stores and other retailers by Reality Entertainment, probably in October. Also being released is The Ed Wood Awards from Monster Rally, 1999, a documentary on Robert Wise and finally the Christopher Lee talk from Monster Rally, 1999. The complete over 1 and a half hour talk is being released.
Video Labs – my day time job in Rockville, MD – recently helped release on DVD a Time/Life documentary that was done way back in 1971. It was shown on television and deals with a gent by the name of Bob Waligunda. He flew his balloon named AMERICA from San Francisco to New York city. It is a really awesome documentary, and yours truly was honored with getting to design the DVD art. If this topic would be something your are interested in, you can pick up a copy HERE.
Lastly, I will be putting up a page about MADHOUSE MANOR, the horror movie I will be working on soon. There has been a lot of buzz about this movie and I can't believe my good fortune – I have makeup people, stunt performers – and even one of the actors from the original MY BLOODY VALENTINE contacted me about it. Now that's cool! But I am not going to place the cart before the horse; there is preproduction to do and funds to be raised. I will be making detailed updates to the MADHOUSE MANOR page, and I will be doing it often. Want to be an investor, want to try out for a part, want to be part of the crew? All information is coming soon. Stay tuned.
So, Mitch Klein and myself had a really good Crawler special effects work day these last couple of Saturdays. He was working on overcoming some hurdles on the creature itself (which he did) and I was finalizing some 36 visual effects shots I did for the film. It has been a couple of great weekends and the old enthusiasm was back. Problem solving and laughing was the rule of the day. There isn't much I can say about when it will be done, but I can say that we are hard at work. Teamwork,  enthusiasm and keeping each other inspired is what keeps people going. Plus, I know both Mitch and I are thankful for the support that we have been getting from folks on facebook lately. So, I hope we have have something in the near future to show (the creature is looking incredible – my illustration above doesn't do it justice). Well below are some stills from the visual effects I've done for the film. I wish I could post more, but then we would be getting into spoiler territory. All hail the Don Dohler/Joe Ripple film!
Phillip J Cook – who gave us the critically acclaimed web series MALICE is looking to get Season 2 of the show into production. For those of you that have seen season one will remember that teenager Alice (Brittany Martz) had to fight the forces of the undead to save her family. Well Alice is ready to take on the forces of evil again and kick major ass. Cook has a Kickstarter campaign going on to raise the funds needed to get this season going! It has some great perks so give generously!  Let's make this happen!!!
Creative genius Matt Farley is on to his 4th or 5th professional motion picture endeavor called LOCAL LEGENDS. The movie traces the weird trip that it is trying to do independent horror movies and getting your product out there for the public to see. It is quirky, it's fun and is done in the style of a Woody Allen black and white movie. I love it. The link HERE is the commentary track hosted by Matt Farley and podcaster Jon Cross (who appears in the movie). Both the movie with and wothout the commentary is available to view on Youtube and I STRONGLY urge all of you to check out this fun, insightful film.
Filmmaker Erik Kristopher Myers contacted me to tell me that his award-winning thriller ROULETTE will be coming out this November 19th. There will be a media event to go with this AND there will be word on Myer's horror/comedy THE DEVIL'S PLAYTHINGS. Stay tuned for more information!
Our friend filmmaker Joe Sherlock was in a serious car accident recently. We here hope he is okay, and that all involve get a speedy recovery. Joe is also known as Dr. Squid and has been making movies for over a decade in the Oregon area. His latest is a slasher called the BLOOD CREEK WOODSMAN. We hope to hear more from Joe soon.
Lastly, my own script has been finished and registered I have been working on this story for years and can't wait to get started on the production! More information coming very soon!
Related articles