Site Dedication: In Producer Don Dohler's Memory Archive
Welcome to another year's end of Smash or Trash. It's been an interesting 12 months to say the least. Sorry that there have not been more in-depth updates, but the reason for that is two-fold: the first being that I was in the hospital for a while – which slowed me down. The second is that I decided to put my movie project on the front burner.
I am busy with the pre-production prep to my first movie in years. It is called MADHOUSE MANOR. The plot is a story of revenge set in a monster wax museum. The script is going through some revisions and I am doing some of the storyboards and props to show potential investors when I set up my kickstarter campaign.
Filmmaker Kevin Kangas' FEAR OF CLOWNS 2 is getting a deluxe Blu-ray release! Shivers the clown has escaped from the insane asylum and is after artist Lynn Blodgett again. It is up to Detective Dan Peters to protect her from the homicidal reject from the circus. Frank Lama, Jacky Reres and Mark Lassise return in the amped up sequel to the LionsGate Film release. So this baby is loaded for bear with extras – including four commentaries and several making of features. This is a must have for anyone that loves a good horror movie. The Blu-ray drops December 20th, 2013 and is offered at a fantastic price. You can pick it up HERE.
While we are on the topic of Kangas Kahn Films, there is also news that their film noir thriller GARDEN OF HEDON will get it's Blu-ray release in February of 2014.  Starring Richard Cutting, John C. Bailey, Beau Nikolas Peregino and Andrew Ely, this murder mystery takes place in a castle where a hedonistic society dwells. The movie sports vibrant color and incredible picture quality (it was shot with a RED camera) and comes overflowing with extras – including commentary, making of documentary, and Easter eggs. This is definitely the "must buy" movie of 2014, so make sure to pick it up. As an added incentive, Kangas Kahn Films has posted the first 14 minutes of the movie online (this includes the prelude). You can check that out HERE.
Independent filmmaker Donald F. Glut is trying to raise additional funds for his erotic-themed werewolf movie. Glut, a prolific writer (Empire Strikes Back, Transformers) and dinosaur expert has been making cult underground movies since the 1960s. For the man that inspired John Carpenter (Halloween) with his movies, these additional funds will help to make the special effects better, as well as being able to afford higher production values, locations and props. For more information on how to help and where to make a donation for this production – and the cool incentives offered – the link can be found HERE.
The New York Dohlerites at the After Movie Diner podcast are covering the two final public-released Timewarp Films movies produced by Don Dohler and Joe Ripple. Jon and Dori Cross, Nick Consol and Phil Rowan review 2004's VAMPIRE SISTERS and 2007's DEAD HUNT. Both films receive a lot of love and laughs from the folks at the Diner, and go into detail about why Dohler's films are well worth seeking out. Besides the reviews there is a hilarious Alien Factor-themed skit at the beginning, a kick ass song about Don Dohler and his team, and as a bonus there is a little interview with me too.
So, plenty of stuff to check out here at the end of the year for Smash or Trash, as we go into another exciting year of independent filmmaking in 2014! Happy Holidays and see you all next year!
Independent filmmakers Jimmy George and Chris LaMartina wrapped their movie CALL GIRL OF CTHULU towards the end of Summer of 2013. Pictured above is director LaMartina giving direction to actor Leanna Chamish on the final shooting day.The horror/comedy will no doubt be premiere sometime in 2014. We here at Smash or Trash wish these talented gents continued success. While you wait for the movie, you really should do yourself a favor and check out their found footage film WNUF HALLOWEEN SPECIAL. It has gotten rave reviews everywhere – including the New York Times and MTV!
Also, the missing DRUNK ON VHS podcast has been found! Podcaster Moe Porne talks with AMD podcaster Jon Cross about the gore-drenched cult movie – Don Dohler's BLOOD MASSACRE. The movie stars the legendary George Stover  and is arguably considered the best of Dohler's early work.
Related articles
Hey! We wish Los Angeles filmmaker Edward L. Plumb a big happy birthday today. Edward is a producer on many, many gigs out in Hollywoodland and we wish him all the best. I want you to know that there is a present in the mail heading your way sir! May you have many more birthdays!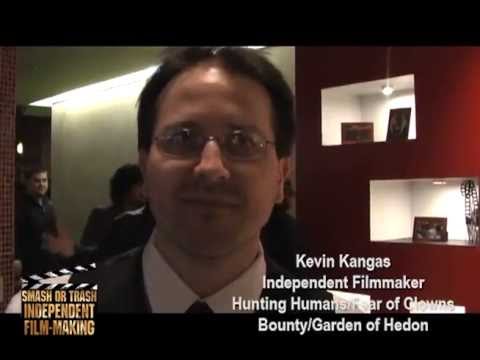 Yowza! I have been working on the new Smash or Trash Independent Filmmaking Television episode. This one will focus around the work of filmmaker Kevin Kangas (Hunting Humans, Fear of Clowns, Bounty). Here is a segment from the new show where some interviews were done at the 2012 World Premiere of Kangas' GARDEN OF HEDON . Check it out!
A little while back we had podcaster Jon Cross interviewed on the site for being a hardcore Don Dohler fan, so we could find out what it was that he loved about Don's films. Well now he is joined by fellow New York City Dohlerite and they talk all things Dohler and their love for the newer Timewarp Films movies. You can find that at this link HERE.
Stay creative!
Related articles
Independent filmmaker Kevin Kangas is an innovative and prolific person in the industry for the last 14 years.  Five very well received movies, He is now doing something… INCREDIBLE. He has a feature length film completed – GARDEN OF HEDON. He is doing a Kickstarter campaign where as if he meets his goal – he will release this new movie in both DVD and Blu-ray quality – for FREE. That's right – FREE. He's trying to raise money for his next motion picture, so he is willing to put up this fantastic movie for everyone on the planet to see if the goal is met. This is really ballsy. I've done enough talking here so click HERE or on the image above and go to find out how we can all help accomplish this. I mean, you can donate as low as a dollar for Pete's sake. Of course if you donate more – you get a change of getting some really cool props and perks! So anyway – what are you waiting for? Go over there and help make this happen!
Actress Sara Cole (DEAD HUNT and other fine indie films) recently got married to the love of her life, Dan Pittore. We at Smash or Trash want to wish them both a happy long life together. Both Sara and Dan were producers on John Kinhart's documentary on Don Dohler called BLOOD, BOOBS & BEAST. Congrats!!!
New York City Podcasters Jon Cross and Nick Consol get back to the Baltimore Independent Film scene with three films. They discuss Erik Kristopher Myers' ROULETTE. Check out this great podcast over at THE AFTER MOVIE DINER!
Speaking of Podcaster Jon Cross, we here at Smash or Trash got to interview him about his love for all things Don Dohler related. It is a fascinating look into someone that has become a DIY indie back garden movie maker convert. You can check it out HERE.
ROULETTE is getting another screening in the Baltimore area. May 9th at the Beltway Theatre. Scuttlebutt around the indie community is that Filmmaker Erik Kristopher Myers may have news on the distribution of the film!
No news on TIMEWARP FILMS' CRAWLER. Hopefully something positive to discuss in the next update.
Related articles
A very happy birthday to the late Don Dohler – a maverick and pioneering DIY filmmaker that has inspired many others in the field. We love you Don and wish you were still with us.
Filmmaker Jon Clark gets the interview treatment here at Smash or Trash. The interview was done a half a dozen years ago, and I do feel terrible for not getting it posted sooner than this. It is a brilliant interview about the trials and experiences he and his cast and crew had producing the movie DESPERATION. Check it out HERE.
Reviewer Hugh Robertson gives us another great review and he has some really positive things to say about FUTURE WORLD. You can read it HERE.
It is that time of year again where we pay tribute here at Smash or Trash. In early December, 2006 we lost a dear friend and mentor here at Smash or Trash; filmmaker Don Dohler. Many tributes have been made to him, but it cannot replace the fact that we wish he was still with us – spending time with his family and friends and being creative. We still miss you Don, and thank you for continuing to inspire countless people around the world.
Saturday August 3rd at Horrorfind 13 (Gettysburg, PA) the  2nd episode of the teen detective show "Adventures of Louanna Lee" will be showing on the big screen at 10 am. Producer Lee Doll will also have a table set up that will sell all 3 completed Louanna Lee episodes, the 70s cop drama The Fixer, as well as posters and CDs. Some fun facts about this Louanna Lee episode include:
• Special guest stars Count Gore De Vol (Dick Dyszel) and award-winning actor Will Haza (Roulette)
• The regular cast includes legendary genre favorite George Stover and Scream Queen Leanna Chamish
• The episode is Halloween-themed (thus the showing at Horrorfind) and is family friendly
• Several members of the cast and crew will be on hand to meet and greet the attendees
• This episode is dedicated to the memory of indie filmmaker Don Dohler
Also showing after that will be Justin Timpane's movie NINJAS vs VAMPIRES. Come out to support independent films!!!
The above photo was taken by Leanna Chamish. I always like to give a shout out to our buddy Don Dohler, who passed on a few years back. He was instrumental in the low-budget independent film industry, and gave such people as J.J. Abrams their start. Happy birthday Don. You are sincerely missed.
Next week we start production of Smash or Trash TV, which of course means this next week will be crazy. We have some great guests lined up and are working on getting film clips and such. Frank Lama and I want this to be a well rounded show that really hits the target audience between the eyes. That will take some work and tweaking, especially for the fist couple of episodes. We look forward to you all tuning in!
From the creator of Mystery Science Theater 3000 (Joel Hodgson) and the original cast of the show comes Cinematic Titanic's take on Don Dohler's THE ALIEN FACTOR. My thanks to Greg Dohler, John Kinhart, David Ellis and George Stover for bringing this to my attention. Click on the image above to watch the 1st five minutes. To get on the mailing list drop them an email at emailcub@cinematictitanic.com. This DVD will be released soon so get ready to order yours!
Director Erik Kristopher Myers brings you another great installment of Ethan Meyer's LUCK OF THE DRAW. This series is an incredibly in-depth look into the triumphs and heartaches of producing the independent movie ROULETTE. The latest installment can be found HERE, and the newly remastered trailer can be found HERE. Plus, the re-shoots for the movie are winding down. Do you have the desire to be an extra for their March 3rd evening shoot? It will be held in Columbia, MD. For more information on how you can appear in the movie, go to their facebook page HERE. Personally folks – I think this trailer kicks major butt' if the movie can live up to the glimpse we see here, these people have one HELL of a movie on their hands!
Coming April 20th, 2010 from Brink DVD is EVERY OTHER DAY IS HALLOWEEN, the documentary on the career of Dick Dyszel (Count Gore De Vol, Bozo the Clown, Captain 20). This award-winning feature is jam-packed with incredible extras. Pre order yours today HERE.
So when is the next giveaway? Right now dang it! Donald F. Glüt of Frontline Entertainment has donated these two sexy and sizzlin' monster movies for your viewing pleasure!  Don is a tremendous guy and an independent filmmaking legend. If you like your creature features to be fun, hot, and campy then look no further! Both come loaded with DVD extras! You know the drill by now folks; email me your name and address and I will put you in for the drawing on March 7th.  One winner per title. Yes, those that win the prizes will need to pay $2.00 S&H (US) or $6.00 S&H (Foreign). Due to the nature of these productions you must be 18 or over to enter the drawing!
So, have I ever known the joy and pain of directing a film? Yes I have! In the early to mid 1980s I directed a couple of slasher flicks.  With the help of Erik Kristopher Myers and Brian Andress, a newly minted trailer for my 1984 film AS DARKNESS SETS IN is now up on youtube. This labor of love starred Tami S Marshall, Anthony Chilla, Ann Ehlers, Michael Gerischer, Tim Reed, Kelly Clark, David Bretag, Cliff McFerren, Scott Naumann, and myself.  Thanks to Erik and Brian, the trailer turned out incredible (Erik did the VO for the trailer – he's awesome – hire this guy for your movies!) and there is now talk between myself and these gentlemen about refurbishing the film and eventually getting it released to DVD. Want to see the trailer on the big screen? It will be one of many played at the Creative Alliance in Baltimore on March 1st! Leave a comment on Youtube – always welcoming feedback!
Finally, today all principle photography was wrapped on the 2nd episode of the ADVENTURES OF LOUANNA LEE. I have seen the rough cut and it is fantastic! There is also a music video we shot with the talented Louanna Lee that had a whole team of professional dancers working with her! For more information on this indie adventure show, you can go HERE.
Remember that independent filmmakers are working hard to bring you unique, quality entertainment that isn't the same old stuff seen at your local cinema megaplex. Support these creative people – we all really appreciate it.